Are you ready for an adrenaline-packed adventure in the heart of nature? Look no further than Selvatica Adventure Park, a thrilling destination where you can unleash your inner daredevil. This comprehensive guide will take you through everything you need to know about Selvatica Adventure Park, from its exhilarating attractions to practical information for planning your visit.
Selvatica Adventure Park is a premier outdoor recreational facility located in the stunning region of Cancun, Mexico. Nestled amidst lush jungles, this park offers a one-of-a-kind experience for adventure enthusiasts and nature lovers alike. Zip line tour in Cancun with a wide range of activities and attractions, Selvatica promises an unforgettable adventure that will leave you with lasting memories.
Read More: How to Travel on a Budget: Tips and Tricks for the Thrifty Traveler
What is Selvatica Adventure Park?
Selvatica Adventure Park is an eco-adventure park that combines thrilling outdoor activities with a deep respect for the natural environment. It's a haven for adrenaline junkies, offering an array of heart-pounding experiences such as ziplining, off-road jungle tours, cenote swimming, ATV adventures, and Tarzania, an exhilarating human roller coaster.
Location and Accessibility
Situated just a short drive from Cancun, Selvatica Adventure Park is easily accessible for both local and international visitors. The park is located in the heart of the Riviera Maya, surrounded by the region's rich biodiversity and captivating landscapes. Whether you're staying in Cancun or the nearby Playa del Carmen, reaching Selvatica is a breeze.
Attractions and Activities
Selvatica Adventure Park boasts an impressive array of attractions and activities that cater to all adventure levels. Let's dive into some of the highlights:
Ziplining
Get ready to soar through the treetops like a bird on Selvatica's thrilling zipline course. With multiple lines spanning vast distances, you'll experience an adrenaline rush as you glide above the jungle canopy, taking in breathtaking panoramic views. Safety is a top priority, and you'll receive thorough instructions and high-quality equipment to ensure a safe and exhilarating adventure.
Off-Road Jungle Tours
Embark on an off-road jungle tour and navigate through rugged terrain in powerful Polaris RZR vehicles. Explore the beauty of the surrounding wilderness as you drive through muddy trails, crossing streams, and witnessing the flora and fauna
and other natural wonders that make the Selvatica Adventure Park so special. Led by experienced guides, these tours offer an exciting way to immerse yourself in the untamed beauty of the jungle.
Cenote Swimming
Cool off and dive into the crystal-clear waters of cenotes, natural sinkholes that are scattered throughout the region. Selvatica Adventure Park provides the opportunity to swim in these magical underground pools, surrounded by limestone formations and lush vegetation. It's a refreshing and enchanting experience that allows you to connect with nature in a unique way.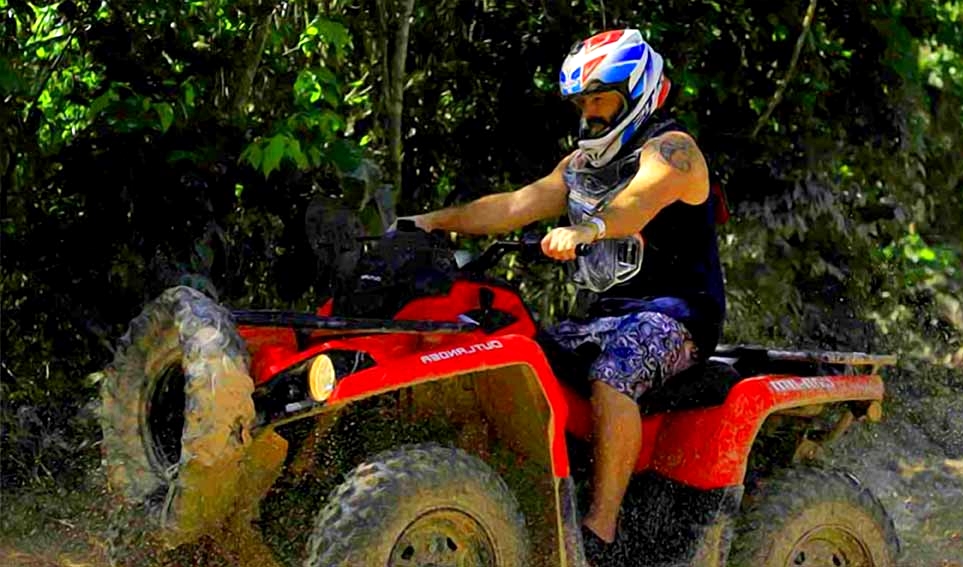 ATV Adventures
Take control of an all-terrain vehicle (ATV) and set off on a thrilling expedition through the rugged terrain of the Yucatan Peninsula. Feel the rush as you navigate through mud, dirt, and uneven trails, exploring hidden corners of the jungle that can only be accessed by these powerful machines. ATV adventures at Selvatica are perfect for those seeking an adrenaline-fueled escapade.
Tarzania
If you're craving an extraordinary adventure, look no further than Tarzania. This unique attraction combines the exhilaration of a zipline with the adrenaline rush of a roller coaster. Strap yourself into a harness and launch yourself through the air, swinging and gliding along a specially designed track. It's an unforgettable experience that will make you feel like a true jungle explorer.
Safety Measures and Equipment
At Selvatica Adventure Park, your safety is of utmost importance. The park adheres to stringent safety standards and provides top-quality equipment for all activities. Experienced guides are present throughout your adventure to ensure that you're properly briefed and equipped. Whether you're ziplining, driving an ATV, or participating in any other activity, you can have peace of mind knowing that your safety is well taken care of.
Packages and Pricing
Selvatica Adventure Park offers a range of packages to suit different preferences and budgets. From individual activities to full-day adventure packages, there's something for everyone. Prices vary depending on the activities included and the duration of your visit. It's advisable to check the park's official website for the latest information on packages and pricing.
Best Time to Visit
The Selvatica Adventure Park is open year-round, allowing you to plan your visit according to your convenience. However, it's worth noting that the region experiences a tropical climate, with hot and humid summers and milder winters. If you prefer pleasant weather and smaller crowds, it's recommended to visit during the shoulder seasons of spring and autumn.
How to Get There
Getting to Selvatica Adventure Park is relatively easy, thanks to its convenient location. If you're staying in Cancun or Playa del Carmen, you can opt for a guided tour that includes transportation to and from the park. Alternatively, if you prefer to drive yourself, the park provides detailed directions and ample parking facilities for visitors.
Accommodation Options Nearby
If you're planning an extended stay near Selvatica Adventure Park, you'll find a range of accommodation options in the surrounding areas. Cancun and Playa del Carmen offer a wide selection of hotels, resorts, and vacation rentals to suit various budgets and preferences. Whether you prefer a luxurious beachfront resort or a cozy jungle retreat, you'll find the perfect place to rest and rejuvenate after your adventurous days at the park.
Read More: Basic Laptop Essentials You Must Have While Traveling
Tips for an Unforgettable Experience
To make the most of your visit to Selvatica Adventure Park, here are some tips to keep in mind:
Dress comfortably and wear closed-toe shoes for activities that require physical exertion.
Apply sunscreen liberally to protect your skin from the sun's rays.
Stay hydrated throughout the day by carrying a water bottle with you.
Follow the instructions and guidelines provided by the park's staff for each activity.
Capture your memories by bringing a waterproof camera or using a GoPro to record your adventures.
Embrace the spirit of adventure and be open to trying new experiences.
Respect the environment and follow any eco-friendly practices advised by the park.

By keeping these tips in mind, you'll ensure a smooth and unforgettable experience at Selvatica Adventure Park.
Conclusion
Selvatica Adventure Park offers an unparalleled adventure in the heart of nature. With its thrilling activities, breathtaking scenery, and commitment to safety, it's the perfect destination for adrenaline junkies and nature enthusiasts alike. Whether you're ziplining through the treetops, exploring the jungle on an ATV, swimming in cenotes, or experiencing the unique Tarzania, Selvatica promises an adventure of a lifetime.
Plan your visit, immerse yourself in the natural wonders of the Riviera Maya, and create memories that will last a lifetime at Selvatica Adventure Park.